Hello merfolk,
Per the SIP proposal, we are rolling out our LP compensation plan that we committed to in the aftermath of the hack that happened in early September (detailed incident report here).
Details on how to register your wallet and claim funds are below. The first tranche of funds are available for release and will be released monthly over the coming year.
Please note that for some of the LPs with smaller amounts of SI, we will be directly sending the SI without a vesting schedule to be efficient on gas fees. The addresses for the direct send are listed below.
If you have any questions or need help with your registration, please feel free to reach out to the team via Discord.
​
How to confirm vesting schedule
Navigate to https://etherscan.io/address/0x5f150c0ac8ad1b6b6074c25d541593f0f14b13e0 (LP VestingWallet contract)

Click "Contract"

Click "Write Contract"

Click "Connect to Web3" When you connect, you will need to use the same address that was used as an LP

Navigate to "4. confirmVestingSchedule"

Enter your vesting schedule details (see below for tables with keys and amounts).

Click "Write" and proceed to confirm the transaction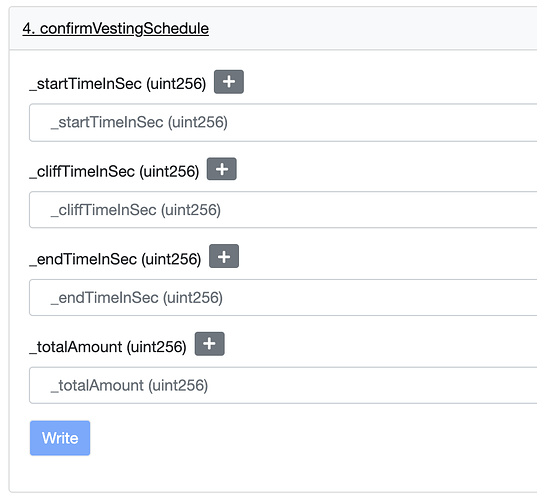 Information on addresses for registration:
| LP address | 0xd28877162906c4fb4684e9a9f622c8f7d270382c |
| --- | --- |
| _startTimeInSec | 1636938000 |
| _cliffTimeInSec | 1636938000 |
| _endTimeInSec | 1668474000 |
| _totalAmount | 212302253590683000000000 |
| LP address | 0xace4051f5e77a4d5f7cbc2117579476d668235c9 |
| --- | --- |
| _startTimeInSec | 1636938000 |
| _cliffTimeInSec | 1636938000 |
| _endTimeInSec | 1668474000 |
| _totalAmount | 190087768418475000000000 |
| LP address | 0xa9e244bacf3eb0de750b9d0d2e1930e56ccb71f3 |
| --- | --- |
| _startTimeInSec | 1636938000 |
| _cliffTimeInSec | 1636938000 |
| _endTimeInSec | 1668474000 |
| _totalAmount | 54387176398127300000000 |
| LP address | 0x5565d64f29ea17355106df3ba5903eb793b3e139 |
| --- | --- |
| _startTimeInSec | 1636938000 |
| _cliffTimeInSec | 1636938000 |
| _endTimeInSec | 1668474000 |
| _totalAmount | 32184226764598600000000 |
| LP address | 0x537037c5ae805b9d4cecab5ee07f12a8e59a15b2 |
| --- | --- |
| _startTimeInSec | 1636938000 |
| _cliffTimeInSec | 1636938000 |
| _endTimeInSec | 1668474000 |
| _totalAmount | 31825081560492700000000 |
| LP address | 0xb57fcc8d52f0f84ab23a9b58ed8930ce8705acdd |
| --- | --- |
| _startTimeInSec | 1636938000 |
| _cliffTimeInSec | 1636938000 |
| _endTimeInSec | 1668474000 |
| _totalAmount | 17656356542676400000000 |
| LP address | 0x20ec02894d748c59c01b6bf08fe283d7bb75a5d2 |
| --- | --- |
| _startTimeInSec | 1636938000 |
| _cliffTimeInSec | 1636938000 |
| _endTimeInSec | 1668474000 |
| _totalAmount | 16309738197822300000000 |
| LP address | 0x268cb4c8b97da9d146702d84501a64f597a3aa14 |
| --- | --- |
| _startTimeInSec | 1636938000 |
| _cliffTimeInSec | 1636938000 |
| _endTimeInSec | 1668474000 |
| _totalAmount | 14632282875377700000000 |
| LP address | 0x3c229864378b3b0adf98ae247ca33986aed8ec1e |
| --- | --- |
| _startTimeInSec | 1636938000 |
| _cliffTimeInSec | 1636938000 |
| _endTimeInSec | 1668474000 |
| _totalAmount | 4719314912750660000000 |
| LP address | 0x034302c77dcc0d8168a2d2c0c13c36becae21d11 |
| --- | --- |
| _startTimeInSec | 1636938000 |
| _cliffTimeInSec | 1636938000 |
| _endTimeInSec | 1668474000 |
| _totalAmount | 4423996103369780000000 |
| LP address | 0x32ae635f5136adb181a442cc890be39263bc13c8 |
| --- | --- |
| _startTimeInSec | 1636938000 |
| _cliffTimeInSec | 1636938000 |
| _endTimeInSec | 1668474000 |
| _totalAmount | 4388413664037260000000 |
Addresses that will directly be sent $SI:
0x89dd0f214e36eb415f812f707fe78cd8fc333e05
0x33525771ad0a361669088620ded38b660664a571
0x1f467ad1ec9de58fddcf5e5bef1453ed07a4419a
0x986dd0602f91a0aa40069eb9dd46d3c95ca2dd02
0x38bc5196d8b21782372a843e5a505d9f457e6ff8